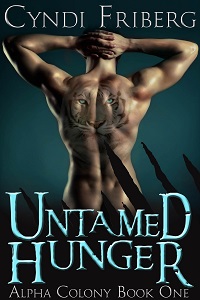 Book One in my Alpha Colony series has just gone "out of print" at Changeling Press, which means it will be pulled from Amazon and B&N in the next day or two. This has been one of my favorite series to write; so many interesting characters and SO hot!
I will re-release the series on my own once all of the books have cycled through, but that will be well into 2013. If you haven't read this series, grab Untamed Hunger while you can!
Major Sasha Young has been stationed at Alpha Colony for the past three years, part of an elite military team assigned to maintain order and resolve conflicts between the shapeshifters. She has watched the hostile morphs, secretly fascinated by their predatory grace and animal magnetism. The colonies were established to protect defenseless humans from these genetic anomalies. So why does she feel like the morphs are the ones being victimized?
Grayson Evans, a rare white-tiger shifter, is frustrated and appalled by how little their human keepers understand the average "morph." After an especially violent altercation between leopard and tiger shifters, he decides it's time to educate them. He's had his eye on Sasha ever since she arrived, and introducing the feisty beauty to the full potential of a felidae-morph is going to be his pleasure — and hers!