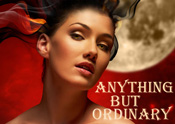 I reworked my "Anything-but-Ordinary" site and launched it with a new address. Anything-but-Ordinary Publishing, Pub, and Books all redirect to the same site.
(None of the addresses have the hyphan in them. It's just anythingbutordinarybooks.com and so forth.)
.
Anyway, I really like the new theme and hope you'll check it out. I announced the first book releasing in 2013, so click on over and see what it is.