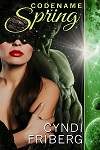 Emma at Night Owl Reviews gave Spring a Top Pick! Here are a couple of the things she said about the book: "Like the previous two, this one brings intrigue, danger and very hot sex together to create a sizzling, exciting sci-fi romance." And "I can't wait for the next installment."
Thank you Emma for the wonderful comments!
Check out the other three books in the Undercover Embassy series. Available now at Ellora's Cave.